Dee Brothers, Inc. was started in 1954 as a 4-H project by our father, Eric, and our uncle, Allan, in State Center, Iowa. The operation grew from 1-bred gilt, to a 400-sow farrow-to-finish Yorkshire/ Hampshire operation with much success producing prolific females and durable boars for hog producers worldwide. In 1999, Graham and Evan relocated the operation to Northfield, Minnesota and started breeding show lambs in the exact same fashion, starting with 1. It became abundantly clear that if you have 1, you might as well have more, so we grew! Today, we reside 20 minutes directly south of the Minneapolis/St. Paul International Airport, 7 miles off of Interstate 35, 1 hour north of the IA border.

Grand Champion
N.A.I.L.E.
Sired by Diamond Eyes

Reserve Grand Champion
Iowa State Fair – 4-H Show
Sired by Grizz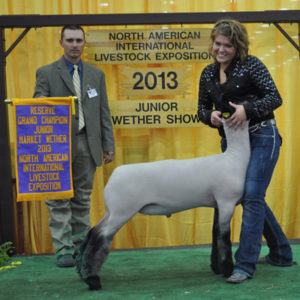 Reserve Grand Champion
N.A.I.L.E.
Sired by Grizz

Grand Champion
American Royal
Sired by Grizz

Grand Champion
N.A.I.L.E.
Sired by Grizz
We run 100 Hampshire and Crossbred ewes, and continue with our family's original focus; producing livestock that work in the barn and win in the ring. We maintain a consistent ewe base through progressive genetic decision-making, but always concentrate on the fundamentals; structure, base-width, and squareness. We incorporate the right outcross sires when necessary, but maintain a solid, tightly bred ewe and ram battery. As trends come and go, we remain committed to raising the right kind. Our sheep will always be moderate, round-ribbed, structurally correct, and have the right show ring look.
Whether you are looking for your next State Fair or jackpot wether, or stud-caliber females, our guarantee is your satisfaction. We are driven by the quest to raise the best livestock possible, and making sure they perform well above expectations. Our involvement doesn't end at the point of sale. Our philosophy is to sell high quality livestock, be brutally upfront and honest, and then help our customers meet their full potential and realize their dreams. Raising livestock is our passion – please feel free to call and/or set up an appointment to visit anytime!